Alive (The Generations Trilogy #1) by Scott Sigler ~ ARC Review by Fallon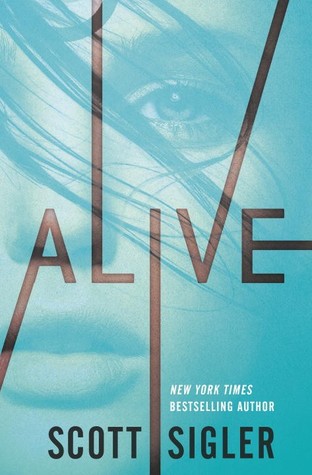 Expected publication: July 14th 2015
Source: ARC from Publisher
Rating: 3 1/2 Out of 5 Stars
From New York Times bestselling author Scott Sigler comes something utterly new: a gripping sci-fi adventure trilogy in the vein of The Hunger Games, Divergent, and The Maze Runner. A group of young adults awake in a mysterious enclosed space with no knowledge of who they are or how they got there…and an indomitable young woman must lead them not only to answers but to survival.

A young woman awakes trapped in an enclosed space. She has no idea who she is or how she got there. With only her instincts to guide her, she escapes her own confinement—and finds she's not alone. She frees the others in the room and leads them into a corridor filled with the remains of a war long past. The farther these survivors travel, the worse are the horrors they confront. And as they slowly come to understand what this prison is, they realize that the worst and strangest possibilities they could have imagined don't even come close to the truth.
Thank you Random House for the ARC received at BookCon2015 this in no way affects my review.
Scott wrote a letter in the back of the Alive ARC asking for readers and bloggers not to spoil the plot twists. I do not like doing spoiler reviews anyway but I understand completely why he asked this. So here is my no spoiler review.
I enjoyed reading all the twists and turns that Alive had to offer. However I am not into intense thrillers and the writing did seem a little male driven for my taste. If you like intense thrillers that keep you guessing all the way up to the last page then this is the book for you. The world building was incredible and Scott writes a book with impeccable detail in every page.
I think that Alive is definitely a book that you should pick and experience for your own. I had to read all the way to the end just to know what would happen. Thank you Random House for providing this ARC and giving me a chance to take the journey through this intense Science Fiction Thriller.
Autho photograph © Joan Allen.
New York Times best-selling author Scott Sigler is the creator of fifteen novels, six novellas and dozens of short stories. His works are available from Crown Publishing and Del Rey Books.
In 2005, Scott built a large online following by releasing his audiobooks as serialized podcasts. A decade later, he still gives his stories away — for free — every Sunday at scottsigler.com. His loyal fans, who named themselves "Junkies," have downloaded over thirty-five million individual episodes.
He has been covered in Time Magazine, Entertainment Weekly, Publisher's Weekly, the New York Times, the Washington Post, the San Francisco Chronicle, the Chicago Tribune, io9, Wired, The Huffington Post, Business Week and Fangoria.
Scott is the co-founder of Empty Set Entertainment, which publishes his Galactic Football League YA series. He lives in San Diego, CA, with his wee little dog Reesie. They're both diehard Detroit Lions fans.