Throwback Thursday: The Orphan Queen (The Orphan Queen #1) by Jodi Meadows
4 Out of 5 Stars
Wilhelmina has a hundred identities.
She is a princess.
When the Indigo Kingdom conquered her homeland, Wilhelmina and other orphaned children of nobility were taken to Skyvale, the Indigo Kingdom's capital. Ten years later, they are the Ospreys, experts at stealth and theft. With them, Wilhelmina means to take back her throne.
She is a spy.
Wil and her best friend, Melanie, infiltrate Skyvale Palace to study their foes. They assume the identities of nobles from a wraith-fallen kingdom, but enemies fill the palace, and Melanie's behavior grows suspicious. With Osprey missions becoming increasingly dangerous and their leader more unstable, Wil can't trust anyone.
She is a threat.
Wraith is the toxic by-product of magic, and for a century using magic has been forbidden. Still the wraith pours across the continent, reshaping the land and animals into fresh horrors. Soon it will reach the Indigo Kingdom. Wilhelmina's magic might be the key to stopping the wraith, but if the vigilante Black Knife discovers Wil's magic, she will vanish like all the others.
Jodi Meadows introduces a vivid new fantasy full of intrigue, romance, dangerous magic, and one girl's battle to reclaim her place in the world.
Seeing Double In Neverland Review:
Thank you HarperCollins for this ARC for review and this in no way affected my opinion or rating of this novel.
The Orphan Queen is a magical-fantasy read where Jodi Meadows manages to build a fierce world that is unique only to this book. I loved reading all the details she captured in the pages, about a girl with magic in a world where it is banned, will try to get what was hers back.
Wilhelmina, is fighting to get her kingdom back that was robbed from her and her family so many years ago. Her parents were murdered and she had to pretend she was dead to not have the same fate befall her. Now years have passed and she wants to reclaim her kingdom, and make those pay who were responsible for what happened all those years ago.
Wilhelmina, decides to go into the castle under a false identity and collect as much information as she can to help her cause. She soon starts living two lives. Wil, is left with questions about what really happened years ago, and is what she is doing now the right course?
Soon Wil meets Black Knife, a vigilante who keeps the streets safe from thieves and those practicing magic. Black Knife soon starts following Wil and learns some of her secrets, more then she would like. What will Black Knife do with the information? Who is Black Knife? Is someone's motives or intentions what really matter?
This book was a little slow at the beginning for me, but once I got into it, I couldn't put it down. I loved the twists and turns and not knowing what the true back story was until the end. I was screaming at the end of this book with the way Jodi ended it. I cannot wait to read book 2 and I am giving this 4 out of 5 stars.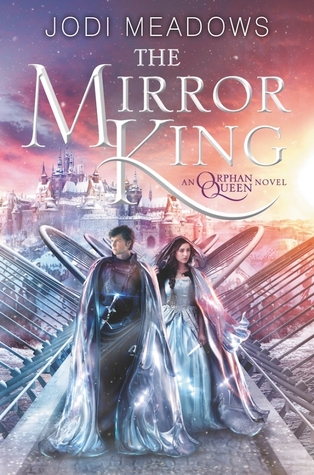 Jodi Meadows lives and writes in the Shenandoah Valley, Virginia, with her husband, a Kippy*, and an alarming number of ferrets. She is a confessed book addict, and has wanted to be a writer ever since she decided against becoming an astronaut. She is the author of the INCARNATE Trilogy and the ORPHAN QUEEN Duology (HarperCollins/Katherine Tegen), and a coauthor of the forthcoming MY LADY JANE (HarperTeen).