Powerless (The Hero Agenda #1) by Tera Lynn Childs and Tracy Deebs ~ Review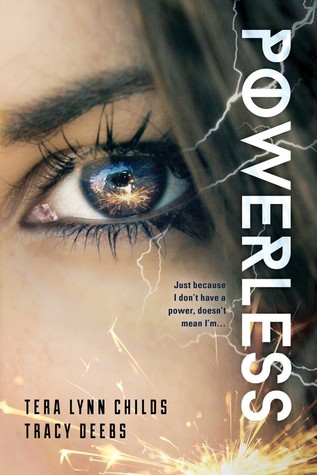 Source: ARC from Publisher

Rating: 4 Out of 5 Stars
Kenna is tired of being "normal". The only thing special about her is that she isn't special at all. Which is frustrating in a world of absolutes. Villains, like the one who killed her father, are bad. Heroes, like her mother and best friend, are good. And Kenna, unlike everyone else around her, is completely ordinary— which she hates.
She's secretly working on an experiment that will land her a place among the Heroes, but when a Villain saves her life during a break-in at her lab, Kenna discovers there's a whole lot of gray area when it comes to good and evil and who she can trust.. After all…not all strength comes from superpowers.
Thank you SourceBooks Fire for the ARC for review of Powerless . This in no way affected my opinion in my review.
I enjoyed Powerless so much. It was predictable at times but then there were some twists I never saw coming. While I always enjoy a great love story, for me the winner was definitely the friendship between Kenna and Rebel. Tera and Tracy had amazing writing
chemistry
and the
writing
flowed
seamlessly
.
This was such a fabulous concept and I am feeling the year of superhero books. Kenna is vulnerable and even though her Father was one of the most powerful Hero and yet she has been powerless. Her mother does not want to leave her vulnerable so he creates a serum to make sure no one can use powers against her. This however is a secret that has to be kept.
So many lies and betrayals and twists and turns. Hero's and Villain's swap roles and this book is a non-stop action page turner. I am very excited to continue this series and will be anxiously waiting.
Tera Lynn Childs is the RITA-award-winning author of the mythology-based Oh.My. Gods. and Goddess Boot Camp, the mermaid tales Forgive My Fins, Fins Are Forever and Just For Fins, and a kick-butt trilogy about monster-hunting descendants of Medusa that includes Sweet Venom, Sweet Shadows, and Sweet Legacy. She has published two e-novellas, Goddess In Time and Pretty In Pearls, and self-published her City Chicks sweet chick lit series. Tera lives nowhere in particular and spends her time writing wherever she can find a comfy chair and a steady stream of caffeinated beverages.
Tracy Deebs
YA pseudonym of Romance novelist
Tracy Wolff
.
Tracy Wolff collects books, English degrees and lipsticks and has been known to forget where—and sometimes who—she is when immersed in a great novel. At six she wrote her first short story—something with a rainbow and a prince—and at seven she forayed into the wonderful world of girls lit with her first Judy Blume novel. By ten she'd read everything in the young adult and classics sections of her local bookstore, so in desperation her mom started her on romance novels. And from the first page of the first book, Tracy knew she'd found her life-long love. Now an English professor at her local community college, she writes romances that run the gamut from contemporary to paranormal to erotic suspense.